BLACK PEPPER. QUALITY VS IMITATION. POINT OF DIFFERENCE
WARNING! CHEAP RAW MATERIAL IN SPICES IS HARMFUL TO YOUR LIFE
Quality of ground pepper directly depends on the quality of the peppercorns. High quality peppercorns have to be ripe with a full core, which contains higher content of the main components of black pepper responsible for the taste and aroma.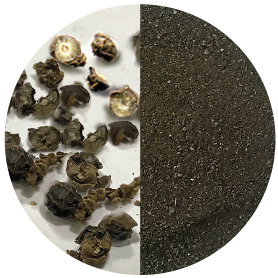 POOR QUALITY BLACK PEPPER - immature, rotten peppercorns, which are empty inside, lack the aroma, taste and pungency.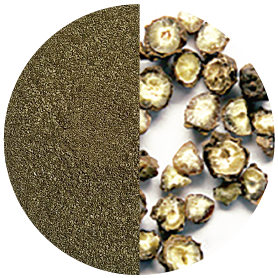 HIGH QUALITY BLACK PEPPER - ripe peppercorns with a full core, which contains higher content of main components responsible for the taste and aroma.
IMPORTANT TO KNOW! PARAMETERS THAT DETERMINE THE TASTE AND AROMA OF PEPPER
PIPERINE – is a major active component, which responsible for the pungency of black pepper. High quality peppercorns contain not less than 4% of piperine.
ESSENTIAL OIL - fill pepper with warm, fresh and spicy aroma.
High quality peppercorns contain minimum 1% of essential oil. Piperine and essential oils are inside the core of the peppercorn
BLACK PEPPER OF PRIPRAVKA™ MEET HIGH-QUALITY REQUIREMENTS:
2% ESSENTIAL OIL 
  4% PIPERINE      
THE COLOR OF BLACK PEPPER POWDER IS NOT BLACK!
Peppercorns have a thin black-brown husk, under which there is a light core. Therefore, color of grinded black pepper is never black. The color is partly light grey, partly light brown with a slight greenish tinge. The blacker the pepper, the more impurities there are.
CHEAP IMITATIONS OF GRINDED BLACK PEPPER MAY CONTAIN:​
stones, dirt
branches, waste
glass, plastic
metal impurities
insects and larvae
animal excrement
empty unripe berries
dangerous pathogenic microorganisms
Pripravka™ has high quality requirements to the products that we offer to the clients.​
PEPPER OF PRIPRAVKA™ GOES THROUGH A 7 DEGREE CLEANING PROCESS:
METHODS OF BLACK PEPPER POWDER FALSIFICATION
Some dishonest producers can add spent, buckwheat husk, mustard meal, flour, starch, ground rice during grinding. If the pepper has an earthy-black or dark color, then the spent (husk) is added - the pepper waste after pressing the essential oils that lack the characteristic pungency, taste and smell, as well as waste from the pepper (branches, empty and rotting berries, stalk, stems, etc.). A brown shade indicates the presence of ground coriander, yellowish color a mustard meal gives.
HOW TO DISTINGUISH HIGH QUALITY BLACK PEPPER FROM BLACK PEPPER IMITATION?
MOST MANUFACTURERS USE CHEAP RAW MATERIAL, WHICH MAY CONTAIN:
stones, dirt
glass, plastic
metal impurities
insects and larvae
branches, waste
animal excrement
rotten, moldy raw material powder
MANUFACTURERS CAN USE CHEAP RAW MATERIALS WITH VIOLATION THE MICROBIOLOGY
REQUIREMENTS THAT PROTECT YOUR HEALTH:
Molds
E. coli
Pathogenic microorganisms
Salmonella
​
WARNING! YOU PAY FOR POOR QUALITY WITH YOUR HEALTH!
Mold is a sign of infection of raw material with mold fungi, which release harmful toxins (ochratoxins and aflotoxin). Ochratoxins and aflotoxins affect the kidneys, organs of the gastrointestinal tract, destroy liver cells, causing acute hepatitis. May lead to irreversible changes in the human body. Resistant to heat treatment of the product.
HOW TO IDENTIFY HIGH QUALITY BLACK PEPPER?
The quality of pepper is determined by the density of the berries, which depends on the degree of ripeness of pepper during the harvest period. Light (immature, empty) berries with a low density are less valuable - they do not contain the necessary amount of piperine and essential oils. The density of quality pepper should be at least 490 g/l. Such pepper is characterized by an increased content of piperine (not less than 4.0%) and essential oils (at least 2.0%). Density of Pripravka™ pepper is minimum 610 g/l, which indicates the use of ripe high quality peppercorns.
DETERMINE THE QUALITY OF BLACK PEPPER BY YOURSELF​
YOU WILL NEED several samples of black peppercorns 20g packages and 120 ml of alcohol (for each sample package).
AND FOR WHAT DO YOU PAY MONEY?
The number of berries on the surface of the liquid indicates the presence of empty berries, in which the density is less than 490 g/l. The more light berries have surfaced, the more pepper berries that do not contain piperine and essential oils, for which black pepper is especially appreciated, are in the package.
FOUNDER OF BRAND PRIPRAVKA PERSONALLY CONTROL THE QUALITY OF THE SPICES:
Our industry experts, purchase specialists and Mr. Zinchuk personally visit farms and plantations in countries where spices are cultivated.
In each location, Mr. Zinchuk communicated with farmers and producers, attended farm auctions for the sale of raw materials, conducted audits of processing plants, and studied international food quality standards.
For 2 years our key executives visited such exotic countries as Brazil, Indonesia, Vietnam, China, India and learned which black pepper is pungent and fragrant, how to choose the best one and determine its quality in the kitchen.
We invite you to watch our video to see the details.
PRIPRAVKA™. FOOD SAFETY IS GUARANTEED!
16 June

2017